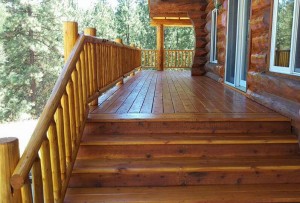 Here at Brookstyle Construction LLC-Log Homes we can add decks, re-finish decks, replace Log Railings and posts. We use an oil base stain called sikkens and with 3 coats it lasts 8-10 years before needing another coat. It is the most lasting and water resistant stain compared to the water base stains that dont seal and allow water to penetrate and fade. We use mostly lodge-pole pine for deck posts and railings and it is very strong! We use Doug fir for the decking.
Contact us at 509-869-1161 or fill out our online request form.
"BROOKSTYLE - WHERE YOUR DREAMS BECOME REALITY"