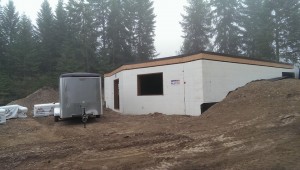 Here at Brookstyle Construction LLC - Log Homes we use the ICF Blocks for your foundation walls. These Blocks are fully insulated with built-in framing every 6" in the first step of pouring concrete. The insulation R-value is way higher than a normal 2X6 wall insulation. Once the Blocks are installed and the concrete is poured, it is ready for windows, siding, and drywall in the very first step and most of your money is there in the block instead of a contractors pocket. So it minimizes the labor and gives you a way better bang for your buck.
Contact us today at 509-869-1161 or fill out our online request form.
"Brookstyle - where your dreams become reality"